SEARCH
The quickest way to find what you are looking for is to use the SEARCH function.  Just click the tab, and it will allow you to search by key words.

Type in your SEARCH TERM and all of the relevant videos will be displayed. Please note that the items with the RED subscription button in the left bottom corner are all the available with the regular subscription. The others are part of a module that is available for purchase separately.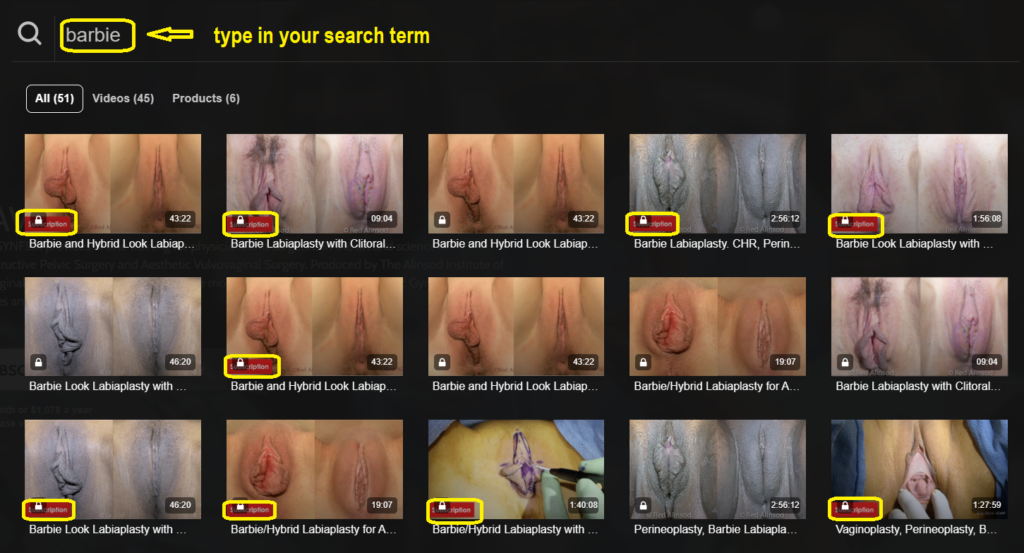 RECOMMENDED SEARCH TERMS:
AIAVS Fellows Video 37, Live Narrated Perineoplasty, Hybrid Labiaplasty, Clitoral Hood Reduction, ThermiVa, O-Shot, Vampire Winglift
---
AIAVS Fellows Video 35, Live Narrated Perineoplasty, Vaginoplasty, Barbie Labiaplasty, Medial and Lateral A Incisions Short
A Incision
Amniotic Fluid
Anterior Repair
Baby Face Facial
Barbie Labiaplasty
Botched Labiaplasty
Cliteropexy
Clitoral Hood Contouring
Clitoral Hood Reduction
DEP
Dermoelectroporation
Fat Pad Reduction
Feathering
Hybrid Labiaplasty
Labia Majoraplasty
Labia Minoraplasty
Labiaplasty
Labiaplasty Revision
Laser
Lateral Clitoral Hood Reduction
Lichen Sclerosis
OAB
O-Shot
Overactive Bladder
Perineoplasty
Platelet Rich Plasma
Posterior Repair
Predictive Permeation
PRP
Resurfacing
RF, Radiofrequency
Rim Labiaplasty
Sling
Stress Urinary Incontinence
SUI
ThermiVa
Uterine Suspension
Vaginoplasty
Vampire Face Lift
Vampire Facial
Vampire Wing Lift
Vertical Clitoral Hood Reduction
Get Started Today With
Gynflix
Copyright © 2023Gynflix. All Rights Reserved.